Asia: more opportunities for digital business in the next years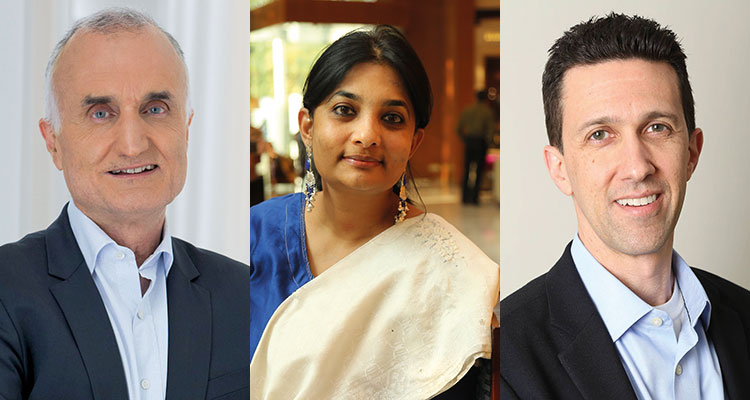 More digital business is being developed in APAC: Jacques Du Puy, CEO, CANAL+ International, Archana Anand, Chief Business Officer, Zee5 Global, and Adam Lewinson, CCO, Tubi
Despite a difficult 2020, this year starts on a very positive way for Asia Pacific, a region in the world that continues growing in many aspects of the content busines. The "Second Wave" of OTTs launches has begun with Disney+ expanding all across SEA, but also HBO Max and NBCUniversal'sPeacockthat will be launched there later this year.
Prensario revised different reports and sources to provide some key bullet points about the current moment in the Asian market regarding buyer's content hunts, new trends, and other figures. Considering all global markets, Asia is one of the territories that have been more active during the Pandemic, agreed the sources consulted.
According to a Digital TV Research report, the OTT TV episodes and movie revenues for 22 countries in the Asia Pacific region will reach USD 54 billion in 2026, up by 90% from USD 29 billion recorded in 2020.With the rise of new VOD platforms in the USA and Europe, along with the consolidation of streamer main players like Amazon and Netflix in Asia; these services are hungry for new content. According to the latest industry outlook from buyers at ATF2020, showed that top 3 most sought-after genres were feature Film (34.94%), animation (32.53%) and series (Drama) at 31.46%.
AVODs are the new wave of OTT and, among them, Tubi. One of the latest OTT successes in the USA, the company is aligning with majors to reinforce its expansion. Its CCO, Adam Lewison, stated that the service is interested in Eastern content, like anime. 'We are looking for more of the same: great characters and storytelling while looking to expand into a new market, and winning over a new generation of viewers'.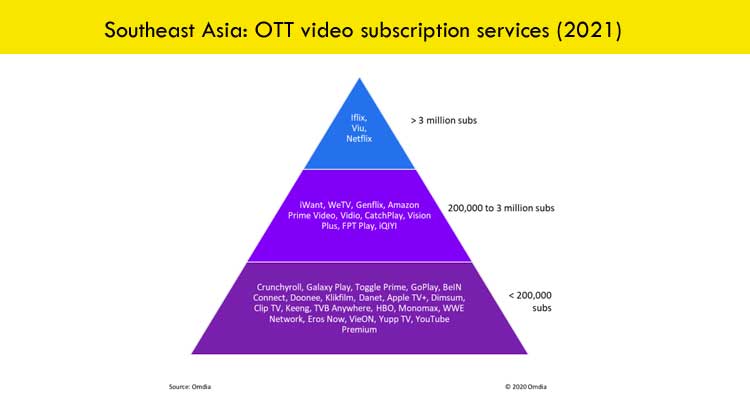 In addition, Jun Wen Woo, senior analyst for TV & online at research OMDIA, commented that Southeast Asia is one of the territories that will take advance of this AVOD boom in 2021 due to its vast population. 'Own movements and strategies reflect significant routes the industry is currently taking. The up-to-the-minute tactical buzzword that comes with AVOD is to 'super-serve', he said.
Also, after been acquired by Tencent, Iflix has been signed deals with media companies to consolidate its presence in specific Southeast Asia markets, like the recent one with ABS-CBN, which sees prime time series before to air on TV.Other streamers, like Viu, which has a very similar focus on Asian drama, according to Omdia, 'is going to face increased pressure in 2021'. However, Viu still has the advantage of being a well-recognized brand in the region, with ample localized content and a sizable number of userbase.
YouTube is the dominant AVOD player with 60% of total revenue of the segment in Asia Pacific (ex-China). The platform is a destination for promotional spot videos and often entire episodes of professional content in Korea, Japan and Southeast Asia. OMDIAexplained that China will remain as the largest AVOD market in the Asia Pacific, where ByteDance is the largest AVOD operator, according to the firm consultant.
While in India, YouTube dominated AVOD with an estimated share of 67% in 2020. Its contribution is forecast to decline to 55% by 2025 as broadcaster-backed OTTs and short-form video platforms gain share.In addition, in Korea, YouTube and Facebook had more than 75% of AVOD revenues in 2020. Kakao and Naver are important domestic platforms for advertising. Kakao is capitalizing on the success and scale of its instant messaging platform Kakao Talk to launch Kakao TV, which debuted in Q4 2020.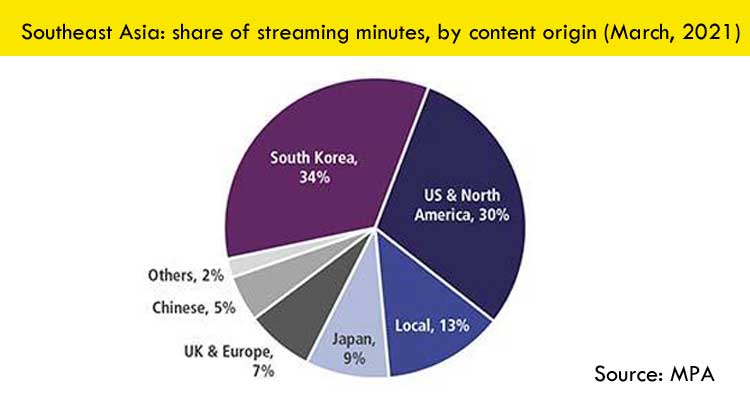 In Southeast Asia, key local TV broadcasters transitioning online will shape the future AVOD opportunity. Local and regional platforms' share of AVOD revenue is expected to grow in the future driven by platforms such as Viu, Vidio, RCTI+ and Line TV.
Another trend that Asia will follow is the Telco partnerships with OTT. Due to the boost of the broadband market in APAC, the region will see important benefits in online video reach, consumption and monetization. According to MPA, mobile broadband penetration, including 5G, in Asia Pacific ex-China will reach 86% (per capita) by 2025 versus 66% in 2020, with key growth from India, Indonesia, Thailand and Vietnam. 5G penetration will grow rapidly in China, Korea, Japan and Taiwan.
The OTT partnerships with telecom and broadband pay-TV company operators will be vital for reach and billing, particularly in markets with limited online payment mechanisms. Their marketing clout and knowledge of end-user behavior can be influential Partnerships range from carrier billing to hard bundles with a fixed fee component to revenue shares.
Content
Netflix and Amazon now routinely feature a huge slide of documentary content and this is driving their subscription renewals, with titles like Tiger King, Don't Fuck With Cats, among others. Within the APAC region, the rise of services such as iWonder and Curiosity Stream has been reported as a supply of documentary material, including both acquired and original material.
Regarding drama, the market highlighted new narratives in non-traditional forms of family stories. In this genre, ATF noticed in Asia, growth opportunities in format adaptation, which currently only representing 2% of total launches. Adaptations like Netflix's Dr Foster were well-received in South Korea, and JTBC signed the rights to adapt BBC's Undercover.
Another content trend to mention is around the series length, which is turning to 12-24 episodes, according to Glance, on its classic Mediametre for ATF 2020. The consultant firm explained that this has been pushed by OTT platforms, particularly in China and South  Korea. In addition, short series of fewer than 12 episodes are popular in certain countries such as Japan, but 'still rare' in other Asian territories. While the vast majority of episodes range from 30—60 minutes (85%), short format (under 30 minutes) is also on the rise (6%).
As for kids content, TotallyAwesome, a kids-centric digital media company, noted the rising role of influencers in shows and titles. They think that 'influencers greatly impact kids' choices, and yet data suggests that we have not reached peak influencer yet'.
YouTubealso remains as the most relevant platform for kids, though DRC models look set to disrupt this trend. 'Kids like variety and interactivity. As many kids play mobile games and watch content online, having a brand presence in both activities is necessary to reach this audience', explained the media consultant.
As forecast, the market expects more launches of Disney+ Hotstar in other countries in Southeast Asia during 2021. Currently, the streamer is already available in Indonesia but it is the Indian version, Disney+ Hotstar, which offers Disney content as well as Star India IP, rather than simply the international offering. This indicates that, apart from offering Disney content, Disney+ aims to become a global distributor of Indian programming and compete with other international Indian online video players such as Yupp TV, Alt Balaji, and Eros Now.