By Nicolás Smirnoff
The content industry is experiencing very special times, with the last sparkles of the Pandemic on one hand, and the violent transformation of the market on the other, with the rise of the OTTs, the global, regional and local ones. How does Asia face these stages, comparing to other regions? This ATF 2021 is a good stop to catch up with the ups & downs.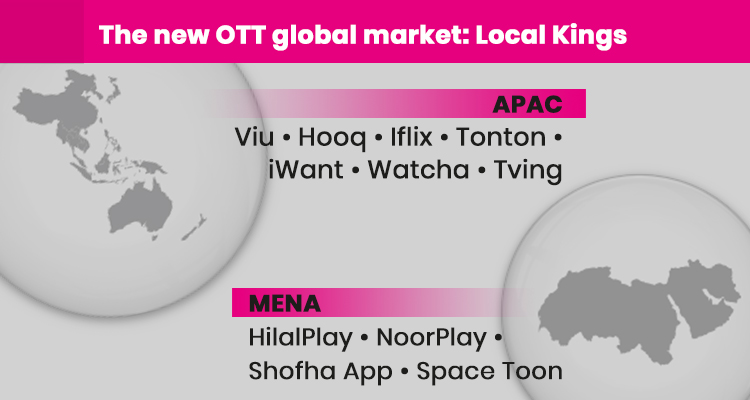 Asia continues as the land of the contrasts. High tech developed nations on one side, as Japan and South Korea, and quite virgin territories on the other. Big giants as China or India setting up economic rules for the world here, and very small and poor nations there.
The Rising Sun continent has a good support of the Governments in many territories, as South East Malaysia or Singapore, establishing production hubs with strong incentives for global companies that decide to invest and bring audiovisual projects to their environments. But on the opposite, there are Governments too strict that censure many of the TV or format developments.
There are nations that are leading global content trends as Japan, developing 'out of the box' entertainment formats, or South Korea, India and even The Philippines, with their worldwide accepted dramas. But there are also strong complaints from international global players, about the terrible pirate and copycat practices that rule many segments of China and other markets.
Going strictly to the post pandemic times… what can we say about Asia? The continent is in a good advantaged position vs. other regions, because it has not only a very strong development of technology issues, with giants asHuawei, Samsung, Sony and the Japanese icons, etc. leading the worldwide market, but also a healthy development of regional and local OTTs, making Netflix, Disney+ and the other global titansnot predominate in the main Asian markets.
In Asia, 8 per 10 leading OTT players are emergent indies: Viu, Hooq, Iflix, Tonton, iWant, Watcha, Tving, etc.—see the image. In MENA, any media company may now turn to a digital platform and have success. Two years ago the pan-regional MBC was the main player, today you have HilalPlay, NoorPlay, Shofha App, etc.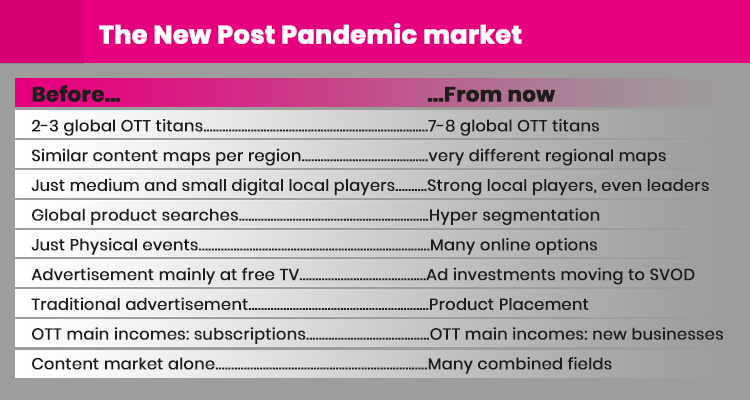 Most of these players are medium sized, recently founded, but make the difference with local content and procedures. Perhaps they are leaders in just 1-2 markets, three at the most, but all together, they set up an innovative force with direct effect in the business trends, that didn't exist two years ago.
One of the main results of this trend is the fragmentation of the demand. When the leaders are global, they basically request similar programming for everywhere. With their local tips, but global concepts. When the leading players are many and local, they can require very different programming needs among them. So Asia not only promotes high-end business, but also business diversity and more opportunities for more companies and people.
Something that the region must work on is the interaction with the mid international market. It is usual to hear in Europe or the Americas, that Asia is just for few foreign players, because if a mid-company wants to do business on its own, nothing good can happen. Again, there is good development of National Pavillionsin overseas events and official trips to interact with National Associations of UK, France, Canada, etc. But the picture is harder for individual ventures.
Ups and downs, as everywhere. But Asia is called to play a main role in the post pandemic scenarios, from 2022 and beyond. Let's see what ATF provides with its community inertia. It promises to be a very interesting market.