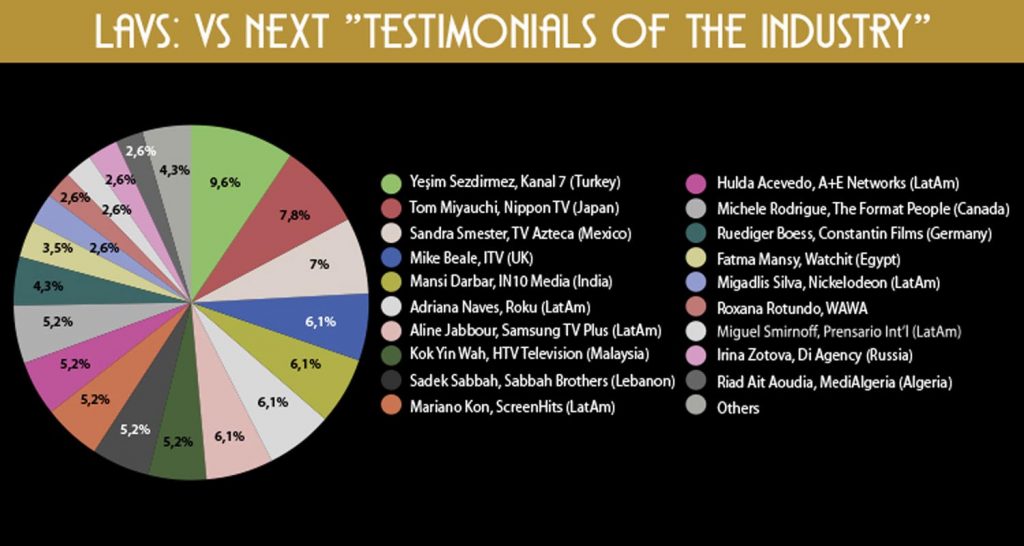 For second year in a row, the conference portion of LA Virtual Screenings (LAVS), VS Next was a big success in terms of audience: 3 out of 10 executives that have entered the platform visited VS Next, which offered more than 40 curated panels, sessions, programming showcases and "Testimonials of the Industry".
As in VS Autumn 2020, LA Virtual Screenings's VS Next was a big success receiving almost 30% of the audience of the show. Prensario International and its partners generated more than 40 conferences, produced by Nuevos Medios Entertainment and were exclusively sponsored by Roku Inc.
This year VS Next reflected the trends on the market, being streaming the hottest topic. All panels, in one way or the other, spoke about the digital market, streamers and DTC, but the most important one was "The Future of Streaming: what's Next", which positioned #1 with 25.4% of the total visits to the site.
Coproduced with Maria Rua Aguete, senior research director at the global research firm OMDIA, it gathered key global streamers Mirjam Laux, VP International Platform, Roku, Marco Nobili, SVP of Marketing, Streaming Division, ViacomCBS Networks International, Archana Anand, Chief Business Officer, ZEE5Global (India) and Jeff Cooke, VP of Programming, International Digital Networks, STARZ. 'The OTT market will be more saturated, with more alliances, and the OTT business models will be much more hybrid than before', they agreed.
Unscripted revitalized during pandemic, due to its easy-to-produce nature, compared to scripted. Legendary titles have returned to the prime times of terrestrial's networks all across the world. Moreover, there has been a diversification with factual entertainment and documentaries taking the attention of the global market. This was one of the most important conclusions at "K7's Entertainment Predictions for 2021", the second panel of VS Next with more views (13.2%).
'While factual and documentary will continue to be relevant gaining more demand on digital streamers, other sub-genres are doing well: guessing game shows (Spanish Cuatro' Game of Talent), helpful & support shows offering real cases of transformation (Belgium VTM' Home Made Home) and escapism as an argumentative center in factual (Japanese Nippon TV's Stacking it)', remarked K7 Media's Ella Turner and Trang Nguyen.
Following a global trend of increasing eSports and gaming businesses, Newzoo presented a top session through Isadora Dos Santos, junior market analyst. The presentation, which positioned #3 receiving 8.1% of the total visits at VS Next, showed that the segment is experiencing 'a large revenue growth' since 2019 reporting USD 957.5 million vs. 1.1 billion expected for this year.
'Not only companies dedicated to eSports benefit from this income, but also sponsored brands have seen income from these concepts, as well as media rights, publisher fees, merchandise & tickets, among others. Together, the sponsorship will see revenues of the order of USD 641 million by the end of 2021'.
Outside these panels and sessions, other important topics that drew the attention of LAVS participants were US Hispanic (TBI), Adapting to Covid-19 (Banijay), How to Expand Revenues on Contents Assets (Parrot Analytics), the Turkish Showcase with seven powerhouses announcing their brand-new dramas, Content Distribution (3Vision), Format Protection (FRAPA), Edutainment (Ci Edutainment) and the regional panels about Europe (Conecta FICTION), MENA (H.Consult), APAC and Latin America, from Prensario International.
"Testimonials of the Industry" has been another key segment inside VS Next: with more than 20 pieces from top executives around the world, the topics went from the different content strategies implemented during the pandemic to the diversification of digital business (SVOD, AVOD, FAST) as well as kids programming, films and TV Drama serials, among others.