By Nicolás Smirnoff
For the content people attending Cannes events for decades, this time Mipcom is completely unusual. It is the first market 'real' after the pandemic, and it has many differences vs. traditional Mipcom. Instead of 12,000 people, about 3,000 attendees are expected. Instead of 500 exhibitors, about 150 are registered. Instead of 4,000 buyers, about 800 are saying present between onsite and only online. But one tip is as always: Mipcom is the chance of witnessing 'live' what is coming. And there are very good surprises at the 'post pandemic' market.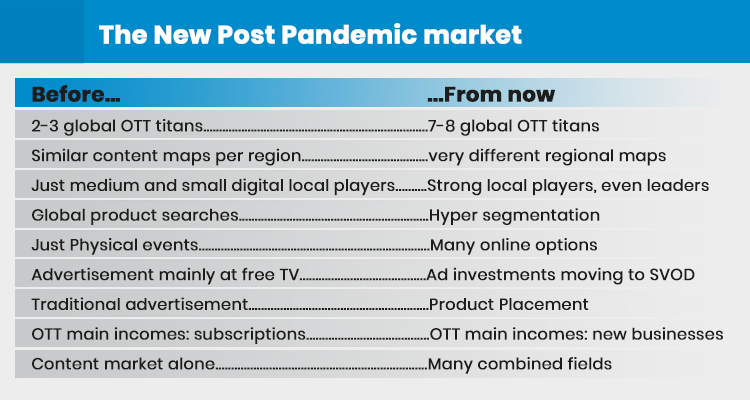 What are we talking about? Before the pandemic, for instance, we had 2-3 global OTT players intending to change the traditional content markets. Now we already have 7-8 making a lot of promotional and synergy efforts to call the attention. Among regions or territories, the map of players was quite the same or similar in the past: big local broadcasters on top, pan-regional Pay-TV groups, and the OTTs emerging. Now every market may be different, even with nothing to do one vs. the other. The pandemic generated very different evolutions per region and per sector, especially about local digital players. Many kept themselves in a secondary position, but others took the lead and changed their maps forever.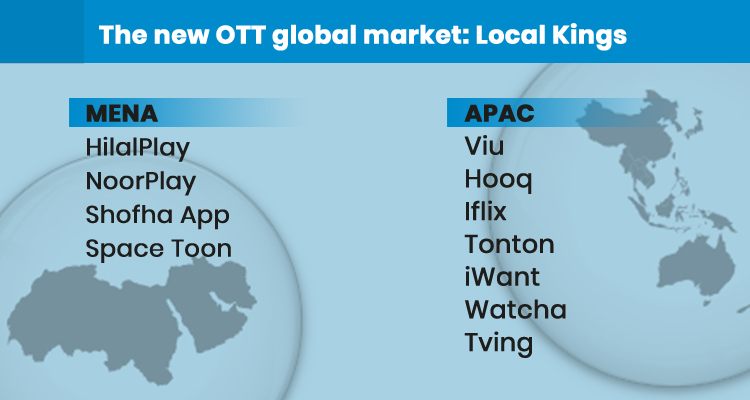 In many territories of the Americas and Europe, Netflix, Disney+, Amazon, HBOMax, etc. are mainly the OTT leaders. In Asia and MENA, the story is different. In Asia 8 per 10 leading OTT players are emergent indies: Viu, Hooq, Iflix, etc. In MENA, any media company may now turn to a digital platform and have success. Two years ago the pan-regional MBC was the main player, today you have HilalPlay, NoorPlay, Shofha App, etc. See graphic 2.
Most of these players are medium size, recently founded, but make the difference with local content and procedures. Perhaps they are leaders in just 1-2 markets, three at the most, but all together, they set up a new force in the market with direct effect in the business trends, that was not present two years ago.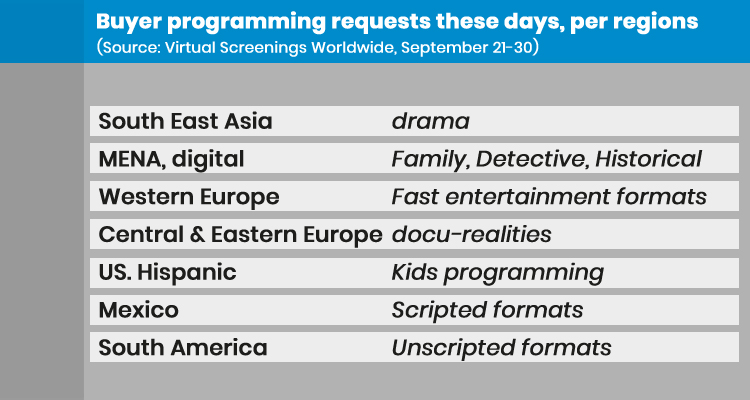 One of the main effects of this trend is the fragmentation of the demand. When the leaders are global, they basically request similar programming everywhere. With their local tips, but global concepts. When the leading players are many and local, they can require very different programming among them.
We can take for instance the experience of Virtual Screenings, the online screenings event powered by Prensario International that took place two weeks ago. There the demand for content was more fragmented than ever, and Asia took the lead for the first time both in top booth and content rankings. VS in its previous editions had far supremacy of Europe and Latin America products, so the change is important.
When VS collected programming needs, it was seen that in South East Asia, the priority kept on traditional dramas, but for MENA digital players, the focus was on Family, Detective, and Historical productions, even looking for different origins. In the Americas, kids programming was one of the main goals for US Hispanic and Pan regional players, while scripted formats were wanted to produce in Mexico, ready-made melodramas in Ecuador, and unscripted formats in South America. In Europe, buyers mainly looked for entertainment formats fast to produce, to compensate for the recent lack of productions. In CEE, having more dramas and no budget for Big formats, docu-realities and scripted formats have been good to provide something different —graphic 3.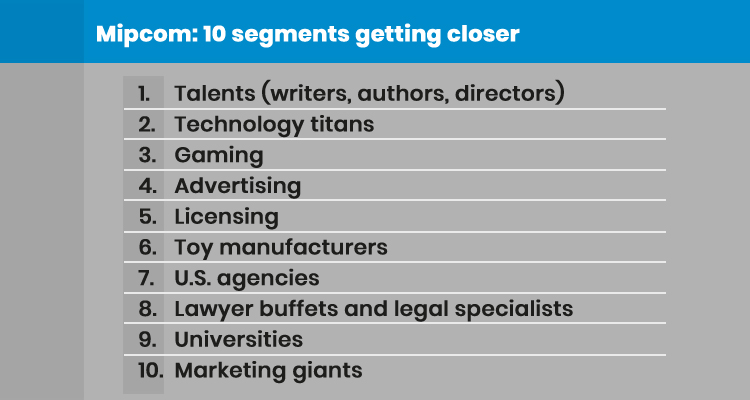 In genres, there were clear winners of the pandemic, as kids & family, entertainment formats, docs & factual, because they are easier to produce with few people and safety protocols. The markets of these genres are augmented and today are more required. All in all, a sign of fragmentation is that every programming niche may handle now much bigger opportunities.
In the past, there were just physical events to make people meet and the whole market move in big. Now, there are many online options, not only the digital events but also the single platforms that the big players have developed to be connected directly with their customers. Of course, they will continue from now, generating different collateral moves in the industry.
Lastly, but very important, we have the evolution of the advertisement investments. Till the pandemic, most of the main budgets were kept on free TV, especially on a global scale. Now, the ad market is moving to SVOD as the new elite thing. The change is slow, but for sure. And with this, the ad formats need to evolve, because the premium on-demand contents have no advertisement. So, a new big trend is Product Placement, how to relate brands and products with series, characters, situations, etc.
In the United States this sector is already generating fortunes. For instance, Netflix series Spencer Confidential billed USD 84 millions in product placement. This changes the equation of the projects and the platforms, which can't continue depending on the growth of subscribers for incomes. The original productions are more and more expensive, they need new ROI formulas… 'This is the way'. A new market is emerging, with more synergies, more complementary fields getting close: advertising, gaming, licensing, technology, toys, etc. Mipcom is a good parade to be embedded and to make evolution smarter.