Thomas Schreiber, CEO, ARD Degeto, and Meghan Lyvers, SVPof International Co-Productions and Development, CBS Studios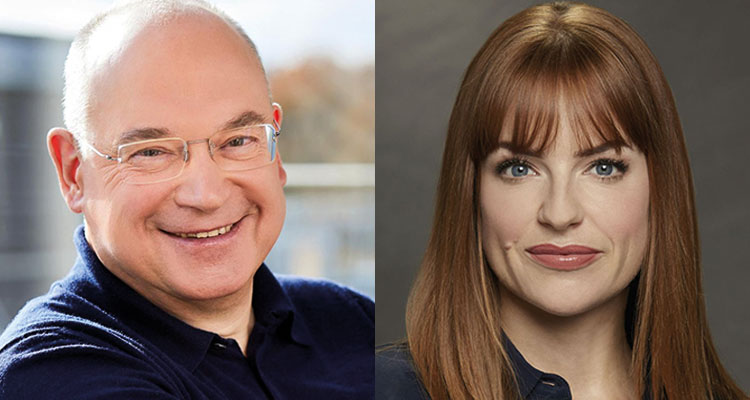 The eight-episode premium drama series (working title), starred by Karoline Schuch, Felix Kramer and Lucas Gregorowicz, is being produced by CBS Studios and Syrreal Entertainment for ARD Deget's online platform ARD Mediathek.
Oderbruch, an elevated-genre drama, is the next serial project that ARD Degeto is developing exclusively for ARD Mediathek, co-produced along with SyrrealEntertainmentandCBS Studios. S1 will contain eight episodes, with filming set to begin in spring 2022 in Germany and Poland.
In the series, the sinister discovery of numerous murder victims shocks the Oderbruch region. The former inland delta on the Polish border is the most sparsely populated region in Germany. The serial murder case brings ex-cop Maggie Kring (Karoline Schuch) and detective Roland Voit (Felix Kramer) back together in their old hometown, after more than 20 years of separation.
Everything seems to be connected to one of their old cases: the mysterious death of Maggie's brother Kai, who allegedly drowned in the 1997 flood of the river Oder. While Voit and his Polish colleague Stanislaw Zajak (Lucas Gregorowicz) scratch the surface of a decades-old conspiracy, Maggie is drawn into the dark past of her own family. What she finds out takes her to the limit of the imaginable.
Series creator and head writer ArendRemmers developed the concept with Adolfo J.Kolmerer, while Siegfried Kamml, Christian Alvart and Timm Oberwelland serve as producers. Ronny Schalk and Martin Behnke complete the team of writers, and Kolmerer directs the series along with Alvart.
Thomas Schreiber, CEO, ARD Degeto, highlighted: 'With Oderbruch, we continueour commitment to top-class high-end series. With thesepartners we are expanding the range of international co-productions in our portfolio. We are very much looking forward to this exciting new project that will take place in a fascinating region of Germany'.
'An eight-part mystery series with outstanding German creatives and actors who all have charisma and draw international appeal. It is a fresh content that will invite the audience to "binge" this show and is exclusively developed for the ARD online platform', addedChristoph Pellander, editor-in-chief, ARD Degeto.
Remmers indicated: 'We are very excited to work on our passion project with such great partners. We have the special creative opportunity to merge two popular genres in an extraordinary way and break down the boundaries between reality and fiction with this project'. Kamml described: 'Crime meets mystery. An unusual mix and a good example that surprising formats are possible in German fiction'.
Meghan Lyvers, SVP of International Co-Productions and Development, CBS Studios, concluded: 'We have been looking for the right genre story to take on as we expand our slate of premium international series, and this is a perfect blend of elevated character drama, with a contemporary and unique take on an eternally beloved genre. We are thrilled to continue building on our relationship with Syrreal and to partner with ARD Degeto on this series'.
CBS Studios entered a first-look international television agreement with Syrreal Entertainment in 2020. Oderbruch marks the second project in the partnership behind the straight-to-series order of the dark comedy Ze Network, which began production in August in Germany and Poland for TVNOW (RTL+). Additionally, Munich Match for SkyUK, Germany and Italy began production earlier this month in Germany, while Bestseller Boy for AVROTROS (NPO) started filming in July in the Netherlands and Morocco.