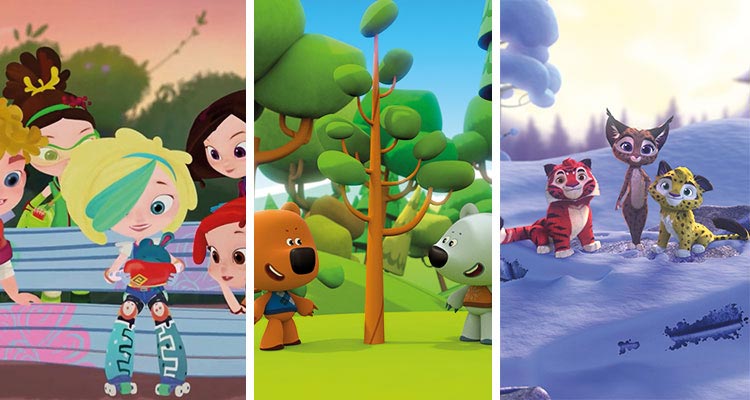 Digital Television Russia (DTR) Media Holding has closed key sales deals for two animated series with Chinese company Beijing Joy Culture Media Co., Ltd. and signed an agreement for the distribution of several projects in Europe with Brands and Rights 360 (B&R 360).
Beijing Joy Culture Media Co., Ltd. (JCM) received distribution rights for two animated series Be-Be-Bears and Leo and Tig,produced by Parovoz Studio, commissioned by DTR and The All-Russia State Television and Radio Broadcasting Company (VGTRK). The Chinese company will distribute four seasons of the first title and two seasons of the second, which will be broadcast on local TV networks. Moreover, it will be also involved in the distribution of Russian animated projects on digital platforms and in marketing activities with a view to promoting and increasing awareness of the brands. Both series have already been partially adapted and dubbed into Chinese, and a strategic partnership between the two major media companies will contribute to the completion of this work.
B&R 360 has been appointed as the exclusive distributor of the animated series Leo and Tig and Fantasy Patrol in Europe. According to the cooperation agreement with the Spanish agency the first one will be distributed in Spain and Portugal, and the second will be shown in Spain, Portugal, Italy and France.
Leo and Tig is about the natural environment of the Far East and its inhabitants. There are two inseparable friends in the center of the plot – the tiger Tig and the little leopard Leo, exploring the amazing natural phenomena every day, playing games, and discovering the secrets of the forest. Experiencing exciting adventures, the series learn friendship and kindness, help each other, and respect the world around them.
Fantasy Patrol portrays the amazing adventures of young witches. In the first season, three friends – Valery, Mary, and Snowy – come to the town of Fableton, where they meet a local girl Helena, who also has a magical gift. After winning millions of fans among children in Russia, it became known to European audiences. Most Swedish families with children enjoyed the magical adventures of the heroes of the Russian animated series, which premiered successfully in 2018.
Be-Be-Bears is a funny story of two bears: Bucky and Bjorn. Together with other characters in the series, young viewers will be able to learn about the world around them, get acquainted with various objects, find out what they are made of, go fishing, conduct their own mini-investigations, learn how to get honey, read books and even fly to the moon!