Hosted by Jan Salling, head of BBC Studios Nordics and co-chairman of FRAPA, the association organized «The FRAPA Format Summit» on October 11, which featured presentations by TF1, and K7 Media, and the second, on Tuesday 12, the «FRAPA Formats Workshop», with a panel of experts including Mike Beale, MD, ITV Studios, Avi Armoza, CEO, Armoza Formats and Carlotta Rossi Spencer, head of format acquisitions, Banijay Group, among others.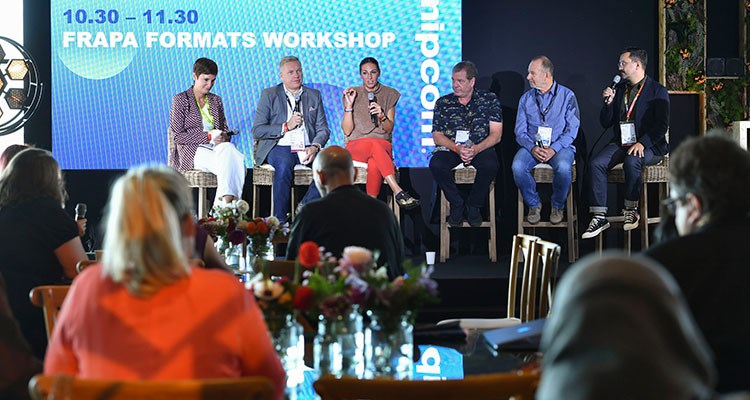 The meetings, which revolved around the new formats and the current situation of the IP, were well attended and with the presence of executives from key companies in the sector. Jan Salling, host of the event, highlighted the 'benefits' of face-to-face encounters and was enthusiastic about holding MIPCOM 2021.
Then, he referred to the moment in which IPs and their protection live: 'FRAPA is still dedicated to the protection of IPs and formats and the new approach is, in addition to this first mission, to establish a relationship with the new generation of producers / production companies. with key buyers and that this helps the newcomers and trains them', he indicated.
The executive also said he expects 2022 to see a 'flood of new shows'. And concluded: 'The format industry is often described as risk averse. But a lot of energy has been invested in development in the last two years, so I hope we will see some great innovations'.
On the first FRAPA event Julien De Groote, EVP and head of content development, TF1 (France) commented: 'It is very important to talk about what we are looking for. TFI makes many formats every year. It was important to go back to Cannes and meet creative people and see ideas. We have missed Cannes and we have spoken with the creatives. We think 2022 will be a great year for advertising and then for putting out new shows'.
David Ciaramella, K7 Media's communication, asserted that buyers are looking for unscripted programming, with special emphasis on reality TV and dating shows: 'This trend basically seeks to fill spaces that are not filled by scripted dramas, because we know there are delays. in the filming. There's drama on dating shows and TV reality too'.
On the second day, Rossi Spencer mentioned the trends that she has been noticing in the market today. She stressed that she has seen shows to feel good, of contests that have to be really simple and relaxing; and also in entertainment, he stressed that creators and producers have to delve into the human and the empathic. 'We are open to all kinds of formats. At Mipcom there is a good selection, it is a relaxing edition and I managed to see all the people I needed', she completed.