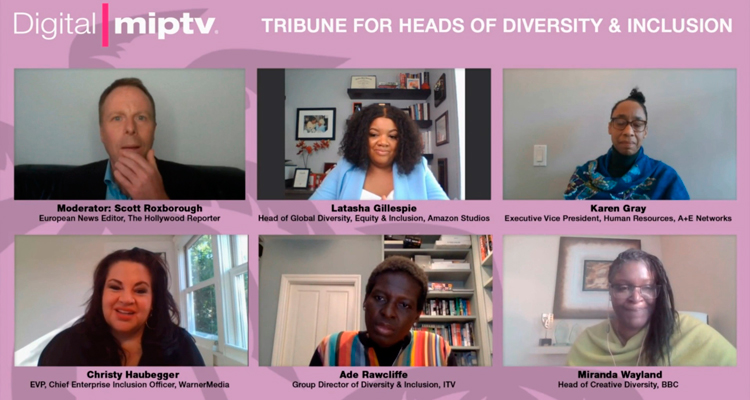 One of the virtual events of the 4th day of MIPTV Digital 2021, was led by Ade Rawcliffe, Group Director of Diversity & Inclusion from ITV, alongside Christy Haubegger, EVP, Communications and Chief Inclusion Officer – WarnerMedia, Karen Gray, Executive Vice President, Human Resources – A+E Networks, Latasha Gillespie, Head of Global Diversity, Equity & Inclusion – Amazon Studios, and Miranda Wayland, Head of Creative Diversity – BBC, who shared their impression and keys to make an impact on the media sector regarding diversity and inclusion.
The special session titled "Tribune for Heads of Diversity & Inclusion" started discussed what is the best a company can do if it feels it is commenting fail regarding diversity and inclusion. Haubegger commented on the importance to analyze the bases of the problem and not so much the symptoms, said: 'So, you have to look at the roots, the process that leads to achieving an equitable and inclusive distribution of talent'.
By her part, Gray expressed o be agreed with Haubegger about the view at the bases of the problem. 'When I go to a company's website and I do not see a person of color, that is a massive sign for me and I start looking at another company' she remarked.
While Gillespie expressed: 'Interviewers should never be the same race, gender and even the same function. Regarding the employer, you have to figure out all the places where you are not being inclusive, either in retaining or hiring talent'.
On last point, Rawcliffe added: 'when we hire, we have to hire people who are a reflection of our audience. That way we will be authentic'.
Finally, Wayland appointed that the viewers can take as an example the representation of women on screen: 'you might focus on gender, but there also are different components: you can have a woman of color, or a woman with a disability', she concluded.