As ViacomCBS reported its Q1, 2021 earnings numbers, Parrot Analytics has unveiled new data, highlighting: first, demand for Paramount+ content (9%) is in a close race with HBO Max (10%) and Peacock (8%) ahead of ViacomCBS (VIAC) earnings; second, rebranding to Paramount+ has not yet changed CBS All Access' standing as a medium-sized player in USA's SVOD market; third ViacomCBS has deep content reserves to bolster Paramount+.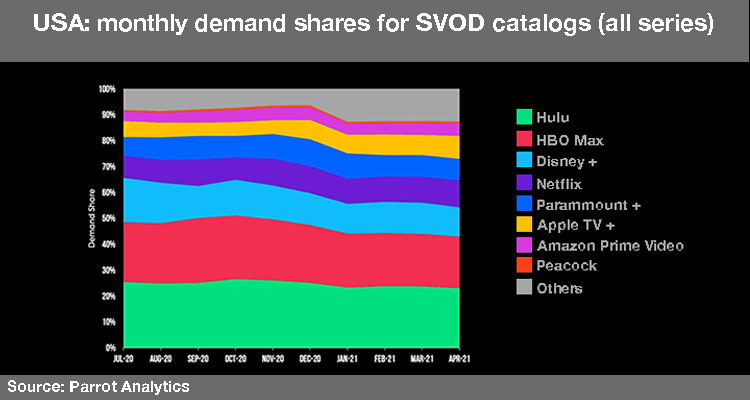 Parrot Analytics shows in detail how the demand for ViacomCBS SVOD platform compares with its competitors and also how that demand is compared within the group's library. CBS's content library in general and the Star Trek digital original series in particular show high demand inherited from CBS All Access and give the platform a reasonable mid-level position in the SVOD market. Paramount +'s share in that demand is around 9%, and it shows some stability from month to month.
'The rebrand to Paramount+ in March 2021 did grant a modest boost in demand to the platform, but the relative growth in other SVODs at the same time meant this held the demand share steady rather than leading to an increase in absolute terms', underlines the report.
While Paramount+ has not caught up to some of its more established streaming rivals in terms of demand for content available on-platform, the chart shows that ViacomCBS and its subsidiaries produce an enormous amount of content: 'The total demand for content originally available on a ViacomCBS property was second only to Disney as of Q1 2021. Prior to the merger of Viacom and CBS at the end of 2019, each of those companies ranked behind Netflix in terms of demand share'.
The marriage of these companies' programming assets catapulted the new company ahead of AT&T, Comcast, and Netflix in terms of total US series demand. This robust demand bodes well for the future potential of Paramount+ as it begins to capitalize on this deep catalog of content. It should also give pause to other platforms who may have been licensing these shows to attract and retain their own subscribers.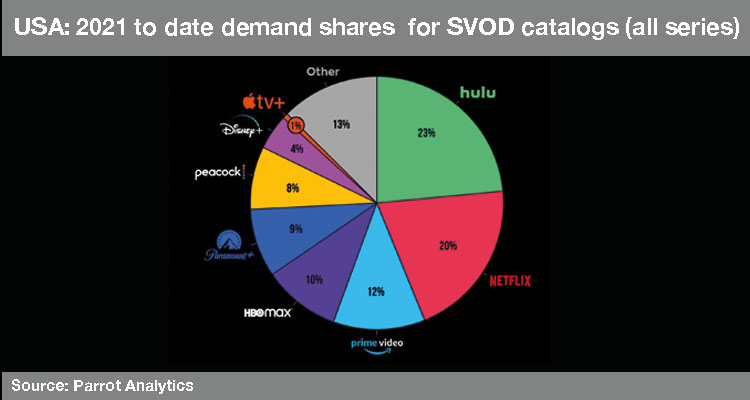 Finally, similar to the growth in demand for content on smaller platforms, there has been growing demand for content owned by other companies. This is driven in part by non-legacy media companies beginning to produce in-demand content, for example Apple.
Regarding the US SVOD market, Parrot Analytics notes: 'Through 2021, Netflix's full catalog of licensed and original series represents around 20% of domestic demand for SVOD services. The company consistently has the highest demand for originals, which is usually around 40-50%. However, the continued loss of content to competitors, who claim it for their own services, explains the downward trend in Netflix's overall demand share'.
According to the consultancy there is a 'large amount' of high-demand library content available on Hulu, leading it to have most of the demand for SVOD services in 2021 thus far. Disney's majority ownership of Hulu, combined with the local appetite for Disney +, places it as the leading player in the market. Apple TV + has about 4-5% of the US digital original series share, but its' originals only 'strategy leads to less than 1% of the overall market demand share,' the report added.
Regarding HBO Max, which next month begins its first expansion outside the USA launching in 33 markets in Latin America and the Caribbean, he indicated that 'it seems to occupy the same niche as the pay TV channel HBO', with a smaller number of series premium in high demand. That includes the original DC Universe superhero series, merged with HBO Max in early 2021. This strategy has secured it a 10% share of total demand, putting it just ahead of Paramount + so far this year. 'The market is continually changing as new services are launched, and many recent SVODs are concentrating on specialized niches. This increased competition can be seen in the growth in demand for the 'Other' category over time', it concludes.