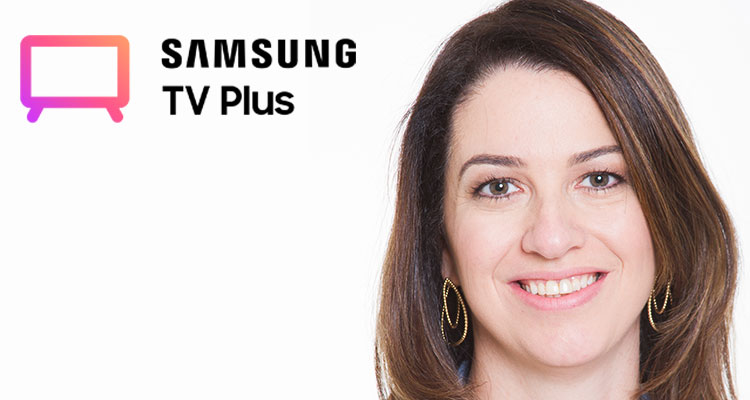 Since its launch in 2015, Samsung TV Plus has become one of the most popular OTT streaming services, and the #2 AVOD app on Samsung Smart TVs in the US. Integrated into Samsung's Smart TV platform, TV Plus is 100% free, no subscriptions or credit cards needed.
Company's business model is aggregating programming and channels from the best creators in the world, including news, sports, entertainment, gaming, kids, and more. 'We bring our customers the best quality, powerful reach, and we bring advertisers the audiences they need to reach at scale. Through us, our partners reach millions of monthly active users that stream billions of viewing minutes per month in the region', indicates Aline Iskandar Jabbour, director, Business Development and Content Acquisitions, Samsung Electronics, America.
Samsung partnered with certain creators to quickly stand up Samsung TV Plus channels within days to meet our consumers' informational, entertainment, wellness and even fitness needs at the onset of the COVID-19 pandemic. It is available in 100 million devices in 13 global markets, USA, Canada, Germany, United Kingdom, France, Italy, Spain, Austria, Switzerland, South Korea, Australia, Brazil and Mexico. Latin America has been a key focus: it was first launched in Brazil (December 2020), where it partnered companies such as Record News, Bloomberg and Runtime Movie, and second Mexico (January 2021), where it partnered Euronews, Tu Cine, and MyTime Movie.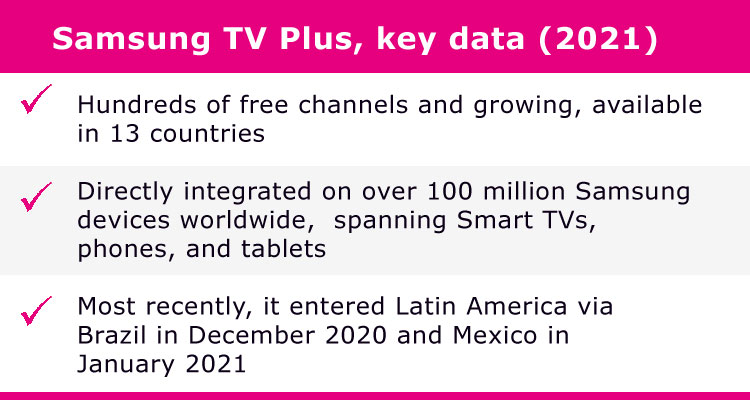 From a content perspective, Samsung TV Plus have also created unique programming through its O&O channels in the US, including Baywatch, Kitchen Nightmares, The Movie Hub, GAMR 365, Clarity 4K, Samsung Wild Life, Lucky Dog and Jack Hanna's Wild Countdown. Also, AMC Presents, Clarity 4K, MovieSphere, Nashville Channel, All Weddings by WE tv and CINEVALUT: Westerns.
Iskandar Jabbour underlines: 'Cord cutters make up to 59% of our users. 3 out of 4 Samsung Smart TV owners stream content, and 44% of our consumers still switch between linear and streaming, indicating that they're looking for a viewing experience that offers the best of both worlds. In the US alone, Samsung TV Plus doubled the amount of active viewers compared to last year'.
'The Samsung Smart TV comes with Samsung TV Plus, which offers a variety of premium channels, giving instant access to news, sports, entertainment, and more. It's 100% free and doesn't require any downloads, credit cards, subscriptions or additional devices. In the USA, 16% of the users are coming from Spanish speaking households, and in 2020 we added 11 Spanish-language channels to our line-up with more coming in 2021', she remarks.
As the #1 TV manufacturer in the world with over 100 million active Samsung Smart TVs on our Tizen platform globally, the industry's top content creators are eager to leverage our distribution scale. 'Partners are drawn to us because we are really focused on giving something to everyone, we currently have hundreds of high quality channels in various formats including 4K; we give consumers a lean back traditional TV experience where they can browse their favorite channels and always find something to watch; our Samsung TV Plus channel partners benefit from global distribution, and the ability to reach cord cutters and shavers', adds Iskandar Jabbour.
Future plans of expansion? The executive concludes: 'We continue to expand to Samsung Tablets and more Galaxy devices in the US. This includes tablets and the S21 series. Users can watch free TV from anywhere via the Samsung TV Plus app, available on select Smart TVs and Galaxy devices. We plan to expand in Brazil & Mexico and more Latin American countries. In Mexico, customers can instantly watch over 30 free channels and growing'.